Jana Tift, Certified Teacher
The Alexander Technique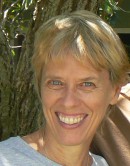 Training: The Philadelphia School for the Alexander Technique
Teaching Member: Alexander Technique International
MFA, Theatre, Florida State University
Co-Author - Your Body Knows: A Movement Guide for Actors
"I think the best thing about the Alexander Technique is that it is a learning process, not a treatment. Students learn how to move better by recognizing tension patterns that interfere with their body's natural balance. They develop new habits that improve coordination. They discover ways of moving that promote comfort and ease. Students can practice and improve on their own.
I know, firsthand, how life-changing Alexander can be:
When I began to practice the principals I learned as a student of the Technique, my painful shoulder and back tension were alleviated. I felt more balanced and at ease in my daily life. I became a better performer, because the tension that had interfered with my movement and my breathing were gone. I was free to follow my creative impulses! It was life-changing!"
Jana has enjoyed the benefits of the Alexander Technique since 1987. Certified to teach in 1994, she shares Alexander with people from all walks of life. Her students improve their coordination and balance, reduce stress, and restore ease of movement in their daily lives and in performance.
Jana specializes in teaching actors and musicians to discover support and freedom when they play an instrument, sing, or act. She co-authored the actor-movement manual, Your Body Knows. https://movewelllivewell.abmp.com/publication-your-body-knows
She has also worked with horses and riders as part of Kirsten Nelsen's Training for Optimal Balance program. In her private practice in the Technique, she works with students ranging in age from 12 to 82!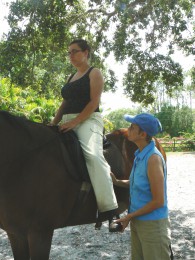 Jana has taught the Alexander Technique in both academic and professional settings. A singer and performer, Jana maintains a private practice in the Technique, and she also works with actors, singers, instrumentalists, and choirs throughout the U.S. and abroad, including the Lawrence University Conservatory, Dreyfoos School of the Arts, the New World School of the Arts, Young Arts, and Florida International University. In addition, she has contributed her skills to the teacher training program at the Philadelphia School for the Alexander Technique.
She has been a Hendrix-Murphy Foundation Artist-in-Residence at Hendrix College and an artist-in-residence at The Ragdale Foundation. She was a member of the graduate acting faculty at Florida Atlantic University for ten years, and she has led workshops in the Alexander Technique at the Southeastern Theatre Conference, the International University Theatre Association, Theatre League of South Florida, and the Florida Professional Theatres Association.
An award-winning director, Ms.Tift holds an MFA in Theatre from Florida State University. She has been awarded Best Director awards at the American College Theatre Festival (Louisiana), the Thespie Awards (Michigan) and the New Hampshire Theatre Awards. A devoted choral singer, Ms. Tift has enjoyed singing with the Master Chorale of South Florida; favorite performances include Beethoven's Ninth under the baton of Michael Tilson Thomas and singing "backup" for Andrea Bocelli in his concert "My Christmas."